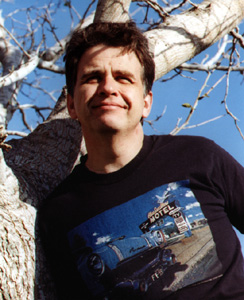 Jerry McClanahan's fascination with Route 66 dates back to family summer vacations during the Sixties, where he viewed the fading glory of America's Main Street from the back seat of a Ford Fairlane. The interstate highway system had all but taken over by 1981, when Jerry began extensively photographing, mapping and researching what was left of the old highway. Back then, Route 66 seemed to be dying. Numerous articles eulogized the old highway, but no modern guides to the Route existed. His goal being to experience as much of the old road as possible, Jerry perused old maps and books in a quest for the old alignments, and searched every interstate interchange, line of old poles, and hint of abandoned right of way for elusive old 66. One 1983 trip, from Oklahoma City to Santa Monica and back, took 14 days of in-depth exploration.
---
A Bachelor of Fine Arts graduate from the University of North Texas, McClanahan began painting and writing about Route 66 full time in the early Nineties, and his artwork is found in private and corporate collections in this country and abroad. A three by five foot oil painting commemorating the original Big Texan restaurant decorates their lobby, while commissioned drawings and paintings hang in the Houston offices of Shell Oil. His design for a neon mural honoring Route 66 is mounted over Gallup New Mexico's Chamber of Commerce Building. Jerry's work has been exhibited in shows in Gallup and Albuquerque New Mexico, Chicago and Springfield, Illinois and Irving, Texas, and has won many awards.
Jerry is the former staff artist/staff writer for Route 66 Magazine, and his creator-owned articles, artwork, photos and maps were an important part of developing the magazine's style for 21 issues. McClanahan's work can currently be found in The Route 66 Federation News, published by the National Historic Route 66 Association, of which he is a member. A series of 8 postcards reproduced from his paintings can be found in gift shops along the route, or autographed sets can be ordered directly from the artist.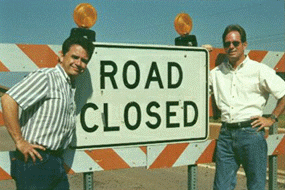 Early in the Nineties, McClanahan and noted Route 66 author/historian Jim Ross discovered that they were both researching old 66. Rather than compete, they decided to pool the results of their research and collaborate. Jim, under his imprint, Ghost Town Press, had already authored Oklahoma Route 66 The Cruiser's Companion. The first result of this creative partnership came in 1994 with Here It Is: The Route 66 Map Series, a set of 8 maps for cruising old 66, co-researched and illustrated by Jerry with pen and ink depictions of Rte 66 icons. The series has gone through many printings and has recently been updated to reflect modern changes to the old road.
In 1998, along with cinematographer Kathy Anderson, they produced and co-hosted the video Bones of the Old Road, an in depth look at five "lost" sections of old 66 long shrouded in mystery, from the rugged cliffs of "La Bajada Hill' near Santa Fe, to the forgotten stretches of "the Jericho Gap" in Texas.
Jerry's artwork and photos have appeared in publications as diverse as Historic Traveler, Popular Mechanics, and Playboy of Brazil. Noted roadside Americana author Michael Karl Witzel's homage to The Mother Road, Route 66 Remembered , included twenty-three of McClanahan's photographs of defunct and surviving Route 66 businesses. A featured speaker (along with Jim Ross) at the 1999 Missouri Association Motor Tour Banquet, Jerry has also given his slide presentation during the 1998 Route 66 Expo, and to the Byways Meeting of the 37th East Texas Tourism Conference.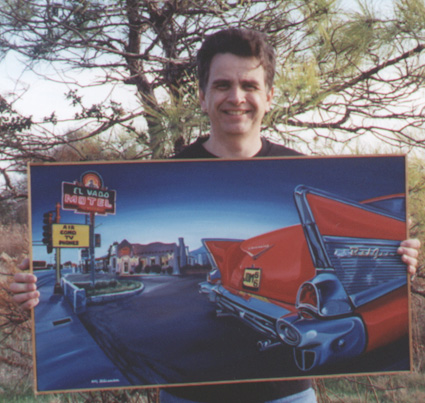 Jerry is currently working on new projects featuring his art and photography. Besides painting Route 66 scenes and icons of his own choosing, Jerry also does specially commissioned artwork featuring the special cars of collectors depicted in vintage Route 66 settings, and especially enjoys restoring classic Route 66 businesses to their former glory on paper or canvas.
Although currently based about five hours south of the route in Corsicana, Texas, Jerry still manages to get his Route 66 kicks each year. Jerry welcomes correspondence about the highway from like-minded roadies.
---
---
Visit Other Route 66 Pages in Web Ring Below
Copyright© 2000 by Jerry McClanahan. All Rights Reserved. Site by Cheryl Nowka.