Kathy's day job is at a "business-to-business" advertising agency that specializes in heavy earthmoving equipment. There she writes press releases, industrial job site stories, and writes, produces and edits a variety of sales, training, and trade show videos. Past job experiences include a stint as a VISTA volunteer in New Orleans, a clerk in a book store, and a whole gamut of jobs at several television stations in Louisiana and Oklahoma. She also worked in the video department of "Feed the Children" – a Christian relief agency headquartered in Oklahoma City.

So how did someone who double-majored in television production and Ancient/Medieval History get involved in Route 66?

Kathy blames George Maharis. "As a little girl, I had a big crush on him. I watched the TV series "route 66" every week. When the film crew came to Pennsylvania to a nearby town to do a show, I was so excited. I kept dreaming that somehow I'd get to meet him. That, of course, never happened."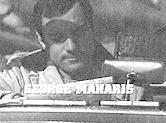 Although the crush on George Maharis did not leave a lasting impression, the name of the series did. After Kathy moved to Oklahoma in 1980, what finally got her out on the Mother Road was a friend's birthday party. It was the 66th Anniversary of Route 66 and the theme for the friend's party was "36 on 66." Since Kathy was the one with the video camera, she and one other co-conspirator traveled from Chandler to El Reno cajoling 36 total strangers to wish their friend a happy birthday on tape. Kathy then interwove their wishes with traveling footage of the various sights and put the end result to music. The video was the hit of the party and, for Kathy, a love of Route 66 was born.

About a year later, she showed the video to the past president of the Oklahoma Route 66 Association. He suggested that she should consider doing a real Route 66 video, because none had been produced and he had gotten a lot of tourist requests for one. Kathy knew she couldn't afford to do one that covered the whole Route since she would have to finance this project herself, but one that covered Oklahoma was a distinct possibility.

While doing research, she realized what the theme of her video would be: that without Oklahoma, there never would have been a Route 66. So many pivotal events and characters in the national story of the Road centered on Oklahoma and Oklahomans that the more she studied, the more convinced she became of the worthiness of her project.
So in 1993, Kathy began writing then shooting "Cruisin' Oklahoma 66." It was finally released in late 1994, the same time John Padget's and Michael Wallis' Route 66 videos also hit the shelves.
In 1995, Kathy introduced a spin-off line of t-shirts, caps, etc., based on the unique logo design developed for the video cover. She ultimately put them up on the web where today people from all over the world can see and then hopefully purchase them.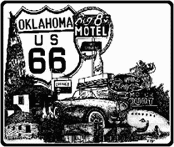 During the course of producing "Cruisin' Oklahoma 66," Kathy met Jim Ross and Jerry McClanahan. She also became a member of the Oklahoma Route 66 Association and a founding member of the Oklahoma Route 66 Museum in Clinton.
In 1996, Kathy was elected as Secretary of the Oklahoma Route 66 Association. 1996 was also the first year for the Association to produce the Trip Guide – the brainchild of Joe Kisicki and Kathy Anderson.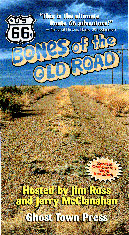 In late 1997, Jim, Jerry and Kathy began collaboration on "Bones of the Old Road," a decidedly different approach to Route 66 videos. Kathy had been reluctant at first to undertake another Route 66 video since her first one was still very much in the red. But with Jim and Jerry willing to share costs and Kathy now having access to some additional video gear that lowered production costs, she agreed to do the project. The video was released in December 1998 amid positive reviews.
In 1999, at the urging of a fellow Oklahoma Route 66 Association member, Kathy entered

a photo contest held by Oklahoma Today – the state's award-winning travel and tourism magazine. She submitted four Route 66-themed photos. Much to her astonishment, two of the photos placed in the top 9 finalists – one being the first place winner (1st Place). Also that year, the state's largest newspaper – the Daily Oklahoman – sponsored a time capsule. Ken Turmel urged Jim Ross and Kathy to submit items. Kathy submitted a copy of "Cruisin' Oklahoma 66" and the two newspaper articles the Oklahoman had run on "Cruisin'" and "Bones." Although the tape was not accepted, the articles were – along with Jim's "Oklahoma Route 66: The Cruiser's Companion" and Ken's "Route 66 and More" postmark art.
So what is Kathy's next Route 66 project? A second "Bones" video? Or a brand new video project that chronicles some aspect of 66 that has never been put on tape? She won't say, but there is a decidedly mischievous grin on her face!